Start
"Akademos", Jacques d'Adelswärd-Fersen et la cause homosexuelle, Mirande Lucien (ed.), Lille, 2000
Alexander, (pseud.), Korgossen, Stockholm, 2005
Almström, Thereze, Bisexualitet : förmånen att kunna älska individer i stället för kön, Göteborg: Göteborgs universitet, Etnologiska institutionen, 2000
Angvik, Birger, Oscar Wilde, Oslo, 2000
Anrell, Joakim, Homosexuella med barn : familjekonstellationer, öppenhet, bemötande, C-uppsats, Linköpings universitet, 2000
Bastian, Till, Homosexuelle im Dritten Reich : Geschichte einer Verfolgung, München, 2000
Bell, David, Binnie, Jon, The sexual citizen : queer politics and beyond, Malden, Mass., 2000
Berg, Martin, Normen, mimesis och begriplighetens galler : queerteori möter kunskapssociologi, 10 poängsuppsats i Tro- och livsåskådningsvetenskap, Lunds univ., 2000
Bertilsdotter Rosqvist, Hanna, Den blanka spegeln - en modell som visar hur (bisexuella) identiteter skapas och en diskussion om erkännandets betydelse vid identitetsformning, CD-uppsats i sociologi, Lunds univ., Lund, 2000
Besson, Philippe (f. 1967), En l'absence des hommes : roman, Paris : Julliard, 2000
Bleys, Rudi C., Images of ambiente : homotextuality and Latin American art, 1810-today, New York, 2000
Blott i det öppna : kyrkorna och kärlekens olika vägar, Eva Reimers, Susanne Lindström (red.), Stockholm, 2000
Boisvert, Donald L., Out on holy ground : meditations on gay mens spirituality, Cleveland, Ohio, 2000
Bruhm, Steven, Reflecting Narcissus : a Queer Aesthetic, University of Minnesota Press, 2000
Bryngemark, Jesper, Queer theory som rättsvetenskapligt analysinstrument, Uppsats i juridik, Lunds universitet, 2000
Campbell, Jan, Arguing with the Phallus : Feminist, Queer and Postcolonial Theory : A Psycoanalytic Contribution, London, 2000
Caragounis, Chrys C. (f. 1940), Homoerotik : i forntid och nutid : och den kristna församlingen, (övers. fr. eng.) Haninge: XP Media, 2000
Carlsson, Bo Göran, Religion, kultur och manlig homosexualitet, Stockholm, 2000
Clarke, Eric O. (f. 1963), Virtuous vice : homoeroticism and the public sphere, Durham, N.C. : Duke University Press, 2000
Clod, Bente, Englekraft, København : Høst& Søn, 2000
Cole, Shaun, "Don we now our gay apparel" : gay men's dress in the twentieth century, Oxford, 2000
Cooper, Sarah, Relating to queer theory : rereading sexual self-definition with Irigaray, Kristeva, Wittig and Cixous, Bern, 2000
Cunningham, Michael, Timmarna, Stockholm, 2000
Darren, Alison, Lesbian film guide, London, 2000
Day, Frances Ann, Lesbian and gay voices : an annotated bibliography and guide to literature for children and young adults, (foreword by Nancy Garden), Westport, Conn., 2000
Dean, Carolyn J., The frail social body : pornography, homosexuality, and other fantasies in interwar France, Berkeley, 2000
Dean, Tim, Beyond sexuality, Univ. of Chicago Press, 2000
Doty, Alexander, Flaming classics : queering the film canon, New York, 2000
Duggan Lisa, Sapphic Slashers : Sex, Violence ans American Modernity, Duke, 2000
Ebershoff, David, The Danish girl : a novel, New York, 2000
Edenheim, Sara, Ecce Hetero, D-uppsats i historia, Lunds univ., 2000
Edvall, Lilian, (f. 1948), Kärleksboken, Stockholm, 2000
Eek, Louise, Köns- och genusresenärer - Fyra transsexuella kvinnors livshistorier på väg till och i en kvinnas kropp, C-uppsats, Lunds universitet/Sociologiska institutionen, 2000
Ehrenreich, Jens, Usikker tøven : digte, Hadsund : Cronjäeger, 2000
El-bah, Mohammed, Frauen- und Männerbilder in den Novellen von Stefan Zweig, Freiburg (Breisgau), 2000
Elsk meg litt, elsk meg lenge : homofil kjaerlighet i hundre år, Knut Olav Åmås (red.), Oslo, 2000
Encyclopedia of lesbian and gay histories and cultures, Vol. 1, Lesbian histories and cultures, Bonnie Zimmerman (ed.), Vol. 2, Gay histories and cultures, George E. Haggerty, John Beynon, Douglas Eisner (eds.), New York, 2000
Fahlstedt, Krister, Studie över situationen för homosexuella inom försvarsmakten, FHS/MI, Uppsats, 2000
Falk, Gunilla, "Garderoben" i skolan : intervjuer med homosexuella lärare, Uppsats från Pulsutbildningen, 2000
Farmer, Brett, Spectacular passions : cinema, fantasy, gay male spectatorships, Duke University Press, 2000
Fernàndez, Josep-Anton, Another country : sexuality and national identity in Catalan gay fiction, Leeds, Maney for the Modern Humanities Research Association, 2000
Fone, Byrne, Homophobia : a history, New York, 2000
Gardell, Jonas, Oskuld och andra texter, Stockholm, 2000
Gnerre, Francesco, L'eroe negato : omosessualita e letteratura nel Novecento italiano, Milano, 2000
Golding, Paul, The abomination, Picador, 2000
Gotfredsen, Sørine, En pagt for livet, København : Lindhardt og Ringhof, 2000
Gove, Ben, Cruising culture : promiscuity, desire and American gay literature, Edinburgh Univ. Press, 2000
Gray, Floyd, Gender, rhetoric and print culture in French Renaissance writing, Cambridge ; New York, N.Y., 2000
Griffin, Gabriele, Representations of HIV and AIDS : visibility blue/s, Manchester University Press, 2000
Griffin, Sean, Tinker belles and evil queens : the Walt Disney Company from the inside out, New York, 2000
Grisham, John, Brödraskapet, (övers. Sam J Lundwall orig. tit. The Brethren, 2000), Stockholm, 2000
Gunderson, Erik, Staging masculinity : the rhetoric of performance in the Roman world, Ann Arbor : University of Michigan Press, 2000
Göransson, Håkan (f. 1944), Karlsson, Anders (f. 1963), Diskrimineringslagarna : en praktisk kommentar, Stockholm, 2000
Haan, Linda de, Kongen og kongen, illustr. Linda de Hahn, Stern Nijland, overs. Anette Helleman, (Orig. tit. Koning & koning, samma år, barnbok), København, 2000
Hafstad, Kjetil, Frihetens festning - så fast en borg? : kirke og samliv - hetero og homo, Oslo, 2000
Hagman, Per (f. 1968), Skugglegender, Stockholm, 2000
Halvorsen Aarset, Anette, Rettslig regulering av homoseksuell praksis 1687-1902, Oslo, 2000
Hayes, Jarrod, Queer nations : marginal sexualities in the Maghreb, University of Chicago Press, 2000
Hammill, Graham L., Sexuality and form : Caravaggio, Marlowe, and Bacon, University of Chicago Press, 2000
Helgason, Hallgrímur (f. 1959), 101 Reykjavik, (övers. John Swedenmark), Stockholm, 2000
Hellgren, Jenny, Suljanovic, Sana, Kyrkans syn på homosexualitet, Luleå, Examensuppsats, 2000
Hennessy, Rosemary, Profit and pleasure : sexual identities in late capitalism, New York, 2000
Hensher, Ann-Christin, Skulden till Daniel, Stockholm, 2000
Hergemöller, Bernd-Ulrich, Sodom und Gomorra : zur Alltagswirklichkeit und Verfolgung Homosexueller im Mittelalter, Hamburg, 2000
Herrmann, Anne, Queering the moderns : poses/portraits/performances, New York, 2000
Historia de un deseo : el erotismo homosexual en veintiocho relatos argentinos contemporáneos, Leopoldo Brizuela (ed.), Buenos Aires, 2000
Holm, Elvira Birgitta (f. 1945), Drakvinter, Stockholm, 2000
Holt, Anne, Död Joker, Stockholm, 2000
Homo i folkhemmet : homo och bisexuella i Sverige 1950-2000, Martin Andreasson (red.), Göteborg, 2000
Hirschfeld, Magnus (1868-1935), The homosexuality of men and women, Michael A. Lombardi-Nash (transl. orig. tit. Homosexualität des Mannes und des Weibes), Vern L. Bullough (intr.), Amherst, N.Y., 2000
Human rights and gender politics : Asia-Pacific perspectives, Anne-Marie Hilsdon, Martha Macintyre, Vera Mackie, Maila Stivens (eds.), London, 2000
Humphreys, Helen (f. 1961), Afterimage, New York, 2000 (Se även Återsken, 2001)
Jacobson, Jacob, Queer desire in Henry James : the politics of erotics in The Bostonians and The Princess Casamassima, Frankfurt am Main, Berlin, 2000
Jordan, Mark D., The silence of Sodom : homosexuality in modern Catholicism, Chicago UP, 2000
Kallmaker, Karin (f. 1960), Unforgettable, Ferndale, Mich., 2000
King, Laurie R., Night Work : A Kate Martinelli Mystery, New York, 2000
Kirsch, Max H., Queer theory and social change, London : Routledge, 2000
Kjærgaard Wistisen, Wisti, En sommerfugls latter : digte, Hadsund : Cronjäeger, 2000
Klippenvåg, Odd, Forventning og innfrielse, Oslo, 2002
Kuzniar, Alice A., The queer German cinema, Stanford University Press, 2000
La Plante, Lynda (f. 1946), Sleeping cruelty, London, 2000
Leavitt, David (f. 1961), Martin Baumann, [New York??], 2000
Lekeby, Kjell (f. 1939), Kung Kristina : drottningen som ville byta kön, [förord av Eva Borgström], Stockholm: Vertigo, 2000
Lindeqvist, Karin, Den smärtsamma gåvan : Annakarin Svedbergs "Din egen", Eva Alexandersons "Kontradans" och talet om homosexualiteten på 1960-talet, [Huddinge]: Södertörns Högskola, Inst. för litteraturvetenskap, 2000
Literature and Homosexuality, Michael J. Meyer (ed.), Rodopi perspectives in modern literature : 21, Amsterdam, Atlanta, 2000
Loffreda, Beth, Losing Matt Shepard : life and politics in the aftermath of anti-gay murder, New York : Columbia University Press, 2000
Lopez, Erika, En flickbok om motorcyklar, flammande ödlor och andra viktiga saker, (orig. tit. Flaming Iguanas), Stockholm, 2000
Lucie-Smith, Edward, Flesh & stone, New York, 2000
Løkke, Martin Rosander (f. 1967), Kan man elske en elsker, Frøstrup, 2000
Lönngren, Ann-Sofi, "de förderfvade uslingarna" : en studie av hur den moderne homosexuelle begreppsligt skapades i svenska läkares böcker 1880-1920, D-uppsats, Uppsala, Univ., 2000
McCormack, Jerusha Hull, The man who was Dorian Gray, Basingstoke, 2000
MacDonald, Ann-Marie (f. 1958), På dina bara knän : roman, övers. Ingvar Skogsberg, (orig. tit. Fall on your knees : a novel, New York, NY, 1996) Stockholm, 2000
McEwan, Ian (f. 1948), Kärlekens raseri (orig. tit. Enduring love), Stockholm, 2000
Maddison, Stephen, Fags, hags and queer sisters : gender dissent and heterosocial bonding in gay culture, Basingstoke, 2000
Malmström, Katarina, Barn med homosexuella föräldrar : barnens syn på sig själva och sina nära relationer, Stockholm, Psykologexamensarbete, 2000
Mammoth book of lesbian erotica, The, Rose Collis (ed.), New York, 2000
Masculinity and spirituality in Victorian culture, Andrew Bradstock (ed.), New York, 2000
Maupin, Armistead, Lilla livet, Malmö, 2000
Maupin, Armistead, Nära vänner, Malmö, 2000
Murray, Stephen O., Homosexualities, Chicago, 2000
Myrbostad, Per Bjørner, Når tausheten roper : en kristen homofil beretter, Oslo, 2000
Namaste, Viviane K., Invisible Lives : the Erasure of Transsexual and Transgendered People, Chicago, London, 2000
Oosterhuis, Harry, Stepchildren of Nature : Krafft-Ebing, Psychiatry and the Making of Sexual Identity, Chicago, 2000
Palomba, Maurizio, Martino, Giuseppe, Chat to chat : la comunicazione on line : esperienze della comunita gay, presentazione di Stefano de Sanctis, intr. di Mauro Cioffari, Roma, 2000
Peters, Almut, Lesbiska kvinnor berättar om sin barndom : homosexualitet i en utvecklingspsykologisk kontext, Lund, Psykologexamensuppsats, 2000
Proulx, E. Annie, Berättelser från vidderna, Stockholm, 2000
Queer Asian cinema : shadows in the shade, Andrew Grossman (ed.), New York, 2000
Queer diasporas, Cindy Patton, Benigno Sánchez-Eppler (eds.), Duke Univ. Press, 2000
Queer frontiers : millennial geographies, genders, and generations, [the Queer Frontiers Editorial Collective] Joseph A. Boone ... (ed.), Univ. of Wisconsin Press, 2000
Queering Demokratie : (sexuelle Politiken) : [Ergebnis des Kongresses "Queering-Demokratie. Sexualität - Geschlecht - BürgerInnenrechte", der im Oktober 1998 in Zusammenarbeit mit der Heinrich-Böll-Stiftung in Berlin stattfand], Quaestio (Hg.). Nico J. Beger ..., Berlin, 2000
Que(e)rying religion, Gary David Comstock, Susan E. Henking (eds.), New York, 2000
Ragazzi al bar : racconti omosessuali, Antonio Veneziani (ed.), Roma, 2000
Rapport från reflektionsdagar kring homosexualitet och kristen tro, Stockholm : Svenska missionsförb., 2000
Rapport om Folkhälsoinstitutets verksamhet med anledning av regeringsuppdraget angående homosexuellas situation i samhället avseende åren 1997 – 1999, Stockholm, 2000?
Reading and writing the ambiente : queer sexualities in Latino, Latin American, and Spanish culture, Susana Chávez-Silverman, Librada Hernández (eds.), University of Wisconsin Press, 2000
Risse, Dorothee, Homoerotik bei François Mauriac : zur literarischen Gestaltung eines Tabus, Heidelberg, 2000
Robinson, Sally, Marked men : white masculinity in crisis, New York, Chichester, 2000
Rohy, Valerie, Impossible women : lesbian figures and American literature, Ithaca, N.Y., 2000
Rosenberg, Tiina, Byxbegär, Göteborg, 2000
Räftegård, Björn, Protection of the Homosexual Family in the European Convention of Human Rights, Uppsats i Sexual Behaviour and Law, Institute of Criminology, Cambridge, 2000
Röndahl, Gerd, Kognitiv och emotionell homofobi samt attityder till hivinfekterade personer, Uppsala : Enheten för vårdvetenskap, Institutionen för folkhälso- och vårdvetenskap, Uppsala univ., 2000
Same-sex love in India : readings from literature and history, Ruth Vanita, Saleem Kidwai (eds.), New York, 2000
Sandhagen, Ingrid (f. 1970), En av dem, Stockholm, 2000
Sandin, Lennart, Visa dem..., eget förlag, 2000
Sappho companion, The, Margaret Reynolds (f. 1957, ed. intr.), London, 2000
Saville, Julia F., A queer chivalry : the homoerotic asceticism of Gerard Manley Hopkins, Charlottesville, Va. : Univ. Press of Virginia, 2000
Schau, Jens Michael, Katarsis, København, 2000
Senelick, Laurence, The changing room : sex, drag and theatre, London, 2000
Sengoopta, Chandak, Otto Weininger : Sex, Science, and Self in Imperial Vienna, Chicago, 2000
Silverstolpe, Fredrik (1947-2001), Homosexualitet i tredje riket, Stockholm/Stehag, 2000
Smith, Hazel (f. 1950), Hyperscapes in the poetry of Frank O'Hara : difference, homosexuality, topography, Liverpool : Liverpool University Press, 2000
Somerville, Siobhan B., Queering the color line : race and the invention of homosexuality in American culture, Durham, 2000
Straight with a twist : queer theory and the subject of heterosexuality, Calvin Thomas (ed.), Univ. of Illinois Press, 2000
Størksen, Ingvill, Homofili og politikk : en komparativ analyse av verdiendringer og meningskoalisjoner bak vedtaket av partnerskapsloven i Danmark og Norge, Hovedoppgave ved Institutt for sammenlignende politikk, Universitetet i Bergen, 2000
Summer, Jane, Silk Road, The, Alyson Pub., 2000
Sønsteng, Gry, Visuell koding og kategorisering : representasjon av homoseksualitet på film, Hovedoppgave i allmenn litteraturvitenskap - Universitetet i Oslo, 2000
Take back the Word : a queer reading of the Bible, Robert E. Goss, Mona West, editors, Cleveland, Ohio, 2000
Tamagne, Florence, Histoire de l'homosexualité en Europe : Berlin, Londres, Paris. 1919-1939, Paris, 2000
Territories of desire in queer culture : refiguring contemporary boundaries, David Alderson, Linda Anderson (eds.), Manchester : Manchester Univ. Press, 2000
Tiby, Eva, De utsatta : brott mot homosexuella kvinnor och män, Stockholm, Folkhälsoinstitutet, 2000
Tobin, Robert, Warm Brothers : Queer Theory and the Age of Goethe, University of Pennsylvania Press, 2000.
Trohaug, Ragnfrid, Okkupert kjærleik, Oslo, 2000
Tursten, Helene (f. 1954), Tatuerad torso, Göteborg, 2000
Turner, William B. (Benjamin, f. 1964), A genealogy of queer theory, Philadelphia, 2000
Ulrichs, Karl Heinrich (1825-1895), MEMORY BOOK 2000 : A Festschrift Commemorating the 175th Jubilee Birthday Anniversary of Karl Heinrich Ulrichs (August 28, 1825 - July 14, 1895) : First Known Gay Activist, Paul J. Nash,
Michael Lombardi-Nash (eds), Elektronisk resurs, 2000
Wahlin, Ulrika, Att acceptera sig själv och må bra som lesbisk i dag, Göteborg, Psykologexamensuppsats, 2000
Watney, Simon, Imagine hope : AIDS and gay identity, London ; New York : Routledge, 2000
Waugh, Thomas, The fruit machine : twenty years of writings on queer cinema, Duke Univ. Press, 2000
Weeks, Jeffrey, Making sexual history, Cambridge, 2000
"Wegen der zu erwartenden hohen Strafe -" : Homosexuellenverfolgung in Berlin 1933 - 1945, Andreas Pretzel, Gabriele Rossbach ; hrsg. vom Kulturring in Berlin e.V., Berlin, 2000
White, Edmund, The Married Man, [London?], 2000
Whittle, Stephen, The transgender debate : the crisis surrounding gender identity, Reading, 2000
Wilson, John Morgan (f. 1945), The limits of justice : a Benjamin Justice mystery, New York, 2000
Vital statistics : findings from the National Gay Men's Sex Survey 1999, Peter Weatherburn, Michael Stephens, David Read (et al.), London (?), Sigma Research, 2000
World in Us : Lesbian and Gay Poetry of the Next Wave, The, Eds., Michael Lassell, Elena Georgiou, St Martins press: USA, 2000
Young, Michael B., James VI and I and the history of homosexuality, Basingstoke, 2000
Zetterquist Nelson, Karin, (Kommittén för barn i homosexuella familjer), Döttrar, söner och homosexuella föräldrar : En studie av homosexualitet och familjeliv sett ur barns och föräldrars perspektiv, Linköpings univ., Tema barn, 2000
Zubro, Mark Richard, One dead drag queen : a Tom and Scott mystery, New York, 2000
Ørskov, Birgitte, Winding, Christina, Meldgaard, Lene, Børn af homoseksuelle, Speciale, København (?), :udg. Ikast Seminariet, 2000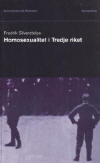 Fredrik Silverstolpe Homosexualitet i tredje riket